The field of construction has advanced and with this, materials have evolved to offer better solutions and finishes to customers. In this aspect, the popularity of the microcement is growing due to its ability to offer multiple advantages for the consumer. Thanks to its characteristics and properties, it allows big renovations to be achieved with small gestures.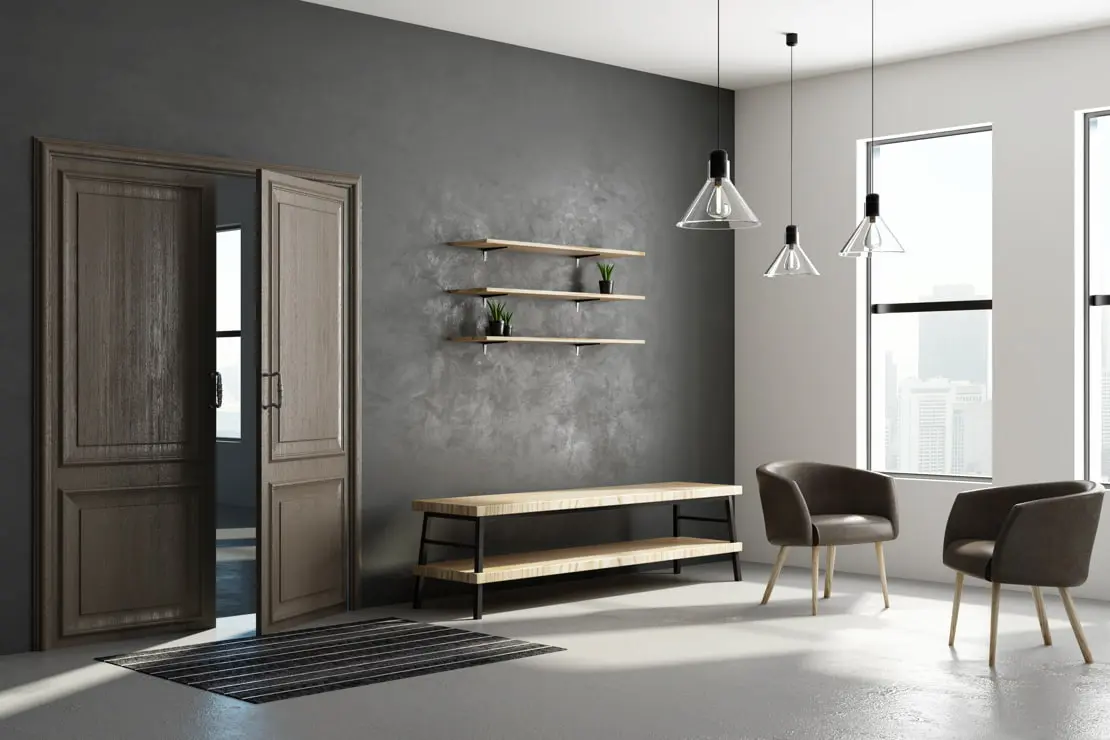 Microcement has been on the market for more than two decades but, despite its long life and popularity, it can often be a great unknown for consumers, even creating slight uncertainty about its benefits, application, and results.
Find out in this news all the advantages and problems associated with this material. Small annoyances very easy to avoid thanks to a series of recommendations and advice that we are going to tell you next. We help solve all your doubts about the great evolution in renovations that we do not doubt that little by little and more and more, it will make a place in the life of consumers.
What are the advantages of microcement?
Microcement is a trend in space renovation. It has managed to find a place in the hearts not only of decorators and architects, but also of private individuals. And it's not for less. Its composition based on cement, additives, aggregates, resins, and pigments, makes it an excellent material for any type of reform due to its unique characteristics that range from its easy and simple application to the originality and exquisiteness of its results.
Next, we delve into the main advantages of microcement and update you on the characteristics and qualities of a unique decorative coating to transform floors and walls.
Contemporary beauty: uniform surface without joints
One of the peculiarities of microcement is the possibility of creating open-plan spaces. This translates into a feeling of greater fullness and luminosity. It transforms our four walls into a minimalist and modern place where joints and interruption lines cease to exist.
Applied both on floors and walls, it manages to create in our space an effect of lightness and completely timeless amplitude that combines with any type of style.
So resistant that it becomes irresistible
The great hardness that characterizes it, positions it as an ideal material to apply in highly trafficked areas, exposed to everyday factors and that are especially punished, such as the entrance to a garage or the contour of a refrigerator.
With a reduced layer of two or three millimeters is enough to achieve a total coating and an application resistant to chemical or mechanical factors.
It is also resistant to scratches, bumps and abrasion. It does not crack or crack and, if good maintenance is carried out, it is able to last even for decades.
It is essential to apply a thin layer of varnish for its protection and sealing. In this way, in addition to protecting it, we will also transform it into non-slip and waterproof, thus avoiding everyday slips and unpleasant humidity. Who offers more?
An impeccable reform
One of the great attractions of microcement in relation to the use of other materials is, undoubtedly, its ability to renovate spaces without the need to generate a speck of dust. Thanks to its easy installation on the existing support, it allows a clean reform, without works and without the noises that characterize it and that we want to keep so far away.
Renewed space: exquisite in the blink of an eye
Many times, thinking about doing a renovation and all the time it will entail, makes us reconsider whether or not to take the step forward. Often, we are more conquered by the thought of how complicated, long and tedious the process will be than the actual desire to renew and change the look of our four walls (and it's not because they don't need a small touch of modernity).
Microcement has the advantage of achieving a renovation in a short period of time, compared to the use or application of other types of materials.
Taking into account the type of support and depending on the drying time, renovating a space with microcement could be reduced to three or four days for walls and up to a week for floors. Of course, this is much less than you would have ever imagined compared to conventional renovations. However, always remember to count on the qualified hand of a professional to carry out the renovation of your spaces with this privileged cladding.
Compatible with (almost) all supports
Among its many advantages, it also stands out for its good adhesion to a large number of supports and materials such as ceramics, porcelain, marble, mosaic, tile, and concrete. It is important to consider for its application that whatever the material, the support must be firm and level.
One option to prevent cracks would be to use a fiberglass mesh. However, it is always advisable to consult with an expert in the field to achieve the best solution, as this does not always apply to all supports and a qualified personnel will be able to give the best guidance.
Checking the good condition of the support is a fundamental and essential preliminary step to achieve an excellent result. Otherwise, we may not achieve that uniformity and stability for which microcement is so well known.
While its versatility to adapt to almost any material is true, we must avoid installing it on other materials such as wood. As it is a material with moving plates, it cannot provide us with the fundamental firmness conditions we need to start the cladding.
Microcement indoors and outdoors? The answer is "Yes"
Not only is it compatible and stylish on floors and walls in interior spaces, such as kitchens or bathrooms, this decorative coating presents another benefit that gives it a differentiating character: versatility.
And the fact is, it is also applicable in outdoor areas. For example, on terraces, gardens, and even swimming pools. It is easy, fast, and straightforward to achieve the perfect finish even in those areas of your home or business that are susceptible to humidity, water contact, or weather conditions.
What could be better than making that dreamed space a reality, where to invest a lot of your time while you enjoy the vitamin of the sun and the outdoors? With Luxury Concrete® microcement for outdoors, it is now a fact: take advantage of every corner of the house to make it yours and entirely to your liking, creating an atmosphere of evasion now also outdoors.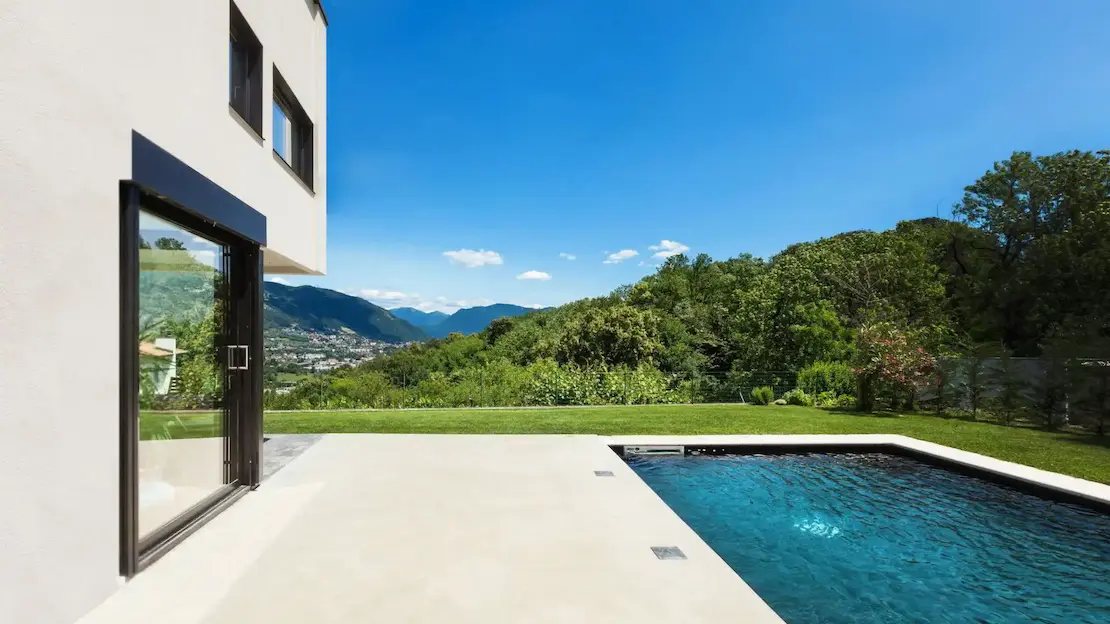 Take a look at our Luxury Concrete® Stone range. This two-component microcement is ideal for outdoors thanks to the non-slip property provided by its robustness and homogeneity. The tranquility of a solid and safe floor to calmly enjoy the best summer days in your favourite space.
Always remember to apply a layer of our Primacrete Finish varnish to achieve better maintenance and greater sealing and protection.
Limitless aesthetic possibilities
Another particularity of this coating is its high decorative value. It allows for creating infinite aesthetic combinations thanks to its wide variety of colors, effects, and textures.
The result? Exclusive and personalized designs that adapt to all tastes and decorative styles: minimalist, rustic, industrial, vintage or classic. A personalized luxury and completely adaptable to the desires and qualities of each person, which make microcement a unique, original, and creative material that allows a different finish in each of the spaces.
Beauty, luxury, and personality come together to create a unique combination: coatings with Luxury Concrete®.
Cleaning has never been so easy
As we mentioned, microcement completely eliminates seams, thus achieving a clear and minimalist space. And it's not just for the modern and refreshed look it creates, which we mentioned in the previous paragraphs, but because it also translates into ease of cleaning, as it prevents dirt accumulation in the small gaps that existed before its application.
Undoubtedly, a material that is "Easy to Clean" thanks to its easy cleaning and maintenance attributes. This also translates into a time saving dedicated to cleaning. Which is, not an advantage, but a "huge advantage".
For cleaning, a classic mixture of water and neutral pH soap is enough. However, at Luxury Concrete® we have specialized products to get the most technical and aesthetic performance. Thus, we will achieve a complete cleaning, total elimination of germs and bacteria and an impeccable result and maintenance.
Problems with microcement easy to avoid
The good news is that its small inconveniences are very easy to avoid. Most of them usually appear due to bad practices, the use of low-quality materials or lack of information on the subject.
Next, we will tell you the main problems with microcement and some tips to easily avoid them.
Poor support condition
Indeed, poor support condition will be the first major factor to consider that will complicate a correct installation of microcement. We could say that its main problem would be to get that support or material on which we are going to apply our coating to be in perfect condition: completely firm and stable.
To achieve this, first of all, we have to make sure that the support is in good condition, that is, without breaks, cracks or any other type of defect that could jeopardize a bad application. If this is not the case, a repair will need to be carried out before anything else.
Then, it is essential to achieve stability and firmness in the support. As complicated as it may seem, this is easier than it looks. In some application areas, such as the floor, it is always advisable to include a fiberglass mesh to achieve this firmness.
In summary, it is absolutely necessary before the application of the microcement to ensure that the support is perfectly ready for its installation: this can be the first step to guarantee (or hinder) the success of your renovation. Always remember to rely on the experience and knowledge of an expert in the field.
Appearance of defects
The appearance of defects can occur especially after its application.
The causes are easy to detect and we can easily avoid them thanks to the use of the right materials and techniques.
Cracks
Generally, this is the most common defect. This is because the support where the coating is to be applied may tend to move. An example would be tiles, since, as they are applied over another layer of even lower concrete, this can move due to factors beyond our control, such as temperature changes or changes in the settlement of the building.
To avoid them, especially in more problematic areas or with a tendency to their appearance, the use of a material with elasticity to cushion these movements is recommended.
Dampness
As we commented, a thin layer of varnish after the application of the coating is essential for a correct sealing, optimal protection, and lasting maintenance.
Also, it will serve to create a waterproof space and avoid the annoying dampness, so difficult to control and at the same time, so unattractive.
In case of areas susceptible to filtering or in permanent contact with water, we should always apply a range of special microcement dedicated to this purpose.
Bear in mind that the appearance of defects, provides a neglected aspect on your walls or floors can create a contrary effect than desired. Remember: it is always better to prevent than to cure.
Inexperienced labor
Having qualified staff in the sector is getting closer to the guarantee of success. Always surround yourself with the best professionals for your lining installation, follow their advice and consult all those doubts that may arise before taking action on your own. Nobody better than them will advise you and guide you towards a luxury result.
Now that you are aware of the advantages and problems that characterize microcement, are you still thinking not to carry out your reform? The advantages are multiple compared to small drawbacks that are very easy to avoid.
You are just one step away from absolute luxury. If you have any doubts or need more information about it, you can get in touch with the team of professionals at Luxury Concrete® by clickinghereand filling out our contact form. We will answer your questions as soon as possible.