The kitchen is, without a doubt, one of the most important rooms in the home. It is a space where we cook and share unforgettable moments with family and friends. Therefore, architects and interior designers have paid special attention to the design and decoration of this space, using modern and avant-garde materials that allow creating unique environments full of personality.
Among the most innovative materials, microcement has managed to stand out for its versatility and for the multiple possibilities it offers in kitchen decoration. This continuous coating material has become the preferred option of many interior design professionals, thanks to its resistance, durability and its easy adaptability to any decorative style.
Microcement kitchens have been a major revolution in the world of interior design in recent years. Its unique finishes and textures, as well as the possibility of personalization, have managed to captivate architects, interior designers, and individual clients. In addition, its ability to integrate with other materials, such as wood or steel, allows creating warm and elegant environments, where functionality and aesthetics combine perfectly.
But what really makes microcement stand out in kitchens is its ability to adapt to any type of space. Whether in a small kitchen or a large kitchen, microcement adapts perfectly, allowing for the creation of attractive and sophisticated environments where light and space are used to their maximum. Furthermore, its easy maintenance and cleaning make it an ideal option for those looking for a practical and functional space.
With the most modern materials in kitchens, this part of the house has gone from being a simple room to becoming the center of the home. Do you want to fall in love even more with microcement kitchens that have transformed the home?
What do microcement kitchens bring? Learn about all their advantages
The choice of the coating of a kitchen is a fundamental task, as it not only defines its aesthetic, but also its durability and maintenance. In this sense, microcement kitchens have become an increasingly popular option among architects, interior designers and homeowners. Why? Here we present some advantages that make microcement an ideal material for coating kitchens.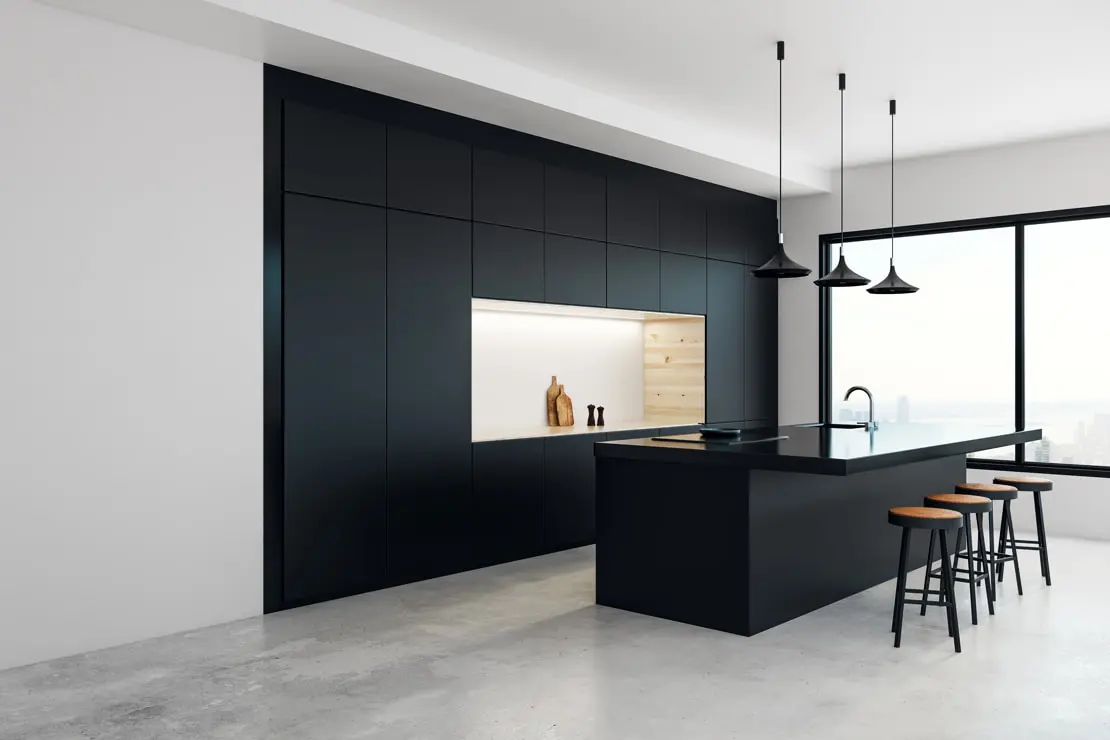 Microcement kitchen with an island and furniture in dark tones
Customizable Exclusivity
One of the main advantages of microcement is the possibility of creating unique and spectacular finishes. Thanks to its handcrafted application, there are no two microcement applications that are the same, which gives the kitchen a touch of exclusivity and sophistication. In addition, its thin thickness allows it to be applied to any surface, without the need for structural reforms.
Continuous Surfaces with Amplitude Effect
Another advantage of microcement in kitchens is its ability to create more spacious spaces. Unlike other coatings, microcement does not require expansion joints, which translates into a continuous surface that maximizes the feeling of spaciousness. In addition, its easy cleaning and maintenance facilitate the conservation of the kitchen's aesthetic in the long term.
Brightness is another characteristic that defines microcement kitchens. Thanks to its ability to coat floors, walls, and furniture, microcement becomes the perfect ingredient to create open and bright spaces. In addition, its wide range of colors allows personalizing the kitchen decoration to each owner's taste and needs.
Modern and current aesthetics
Another aspect that makes microcement an attractive option for coating kitchens is its touch of modernity and avant-garde. Thanks to its ability to adapt to any decorative style, microcement brings a current and sophisticated air to the kitchen. Besides, its application does not require major works, which translates into a savings of time and money.
Waterproof and slip-resistant surface
Finally, we cannot forget the technical characteristics of microcement. Thanks to its sealing, this material acquires waterproof and non-slip properties, which increases the safety and durability of the kitchen. In addition, its strength makes it an ideal material to withstand the traffic and daily activity of the kitchen.
Outstanding resistance and durability
Resistance and durability are two of the most notable features of microcement in kitchens. This material is capable of withstanding heavy traffic and daily use without losing its original appearance.
Microcement is very resistant to stains, scratches, shocks, acids, and cleaning products, making it a very durable and easy-to-maintain material.
Easy and simple cleaning
Also, thanks to its high adherence, it adheres perfectly to any surface without needing to remove the existing material, which prevents the creation of debris and the interruption of the kitchen's operation.
Another significant factor is that microcement is a joint-free material, which prevents the accumulation of dirt and bacteria in the joints. In addition, its waterproof ability prevents the absorption of moisture and the proliferation of fungi and bacteria.
Microcement kitchens offer a wide variety of aesthetic, technical, and functional advantages that make them an ideal option to coat any type of kitchen. If you are looking for a sturdy, durable, customizable, and sophisticated material, microcement may be the perfect option for you.
At Luxury Concrete, we have a wide range of microcement colors and finishes that adapt to any need and decorative style. Keep reading and discover all the possibilities that microcement offers for your kitchen!
Microcement kitchens: a dream coating for floors and walls
Microcement in the kitchen offers a covering with the greatest versatility in the market. It is perfect for developing immense creativity on floors, walls, ceilings, and countertops.
No part of the kitchen needs to be confined to old colors, materials, or textures. On the kitchen floor, microcement is ideal for achieving a non-slip, wear and stain-resistant surface.
Depending on the decorative style and desired texture, microcement kitchens offer three types of finishes for the floor. If it is an indoor floor, a medium-grain microcement is the perfect choice. In this group we find the product Concrete Floor, that offers a natural finish.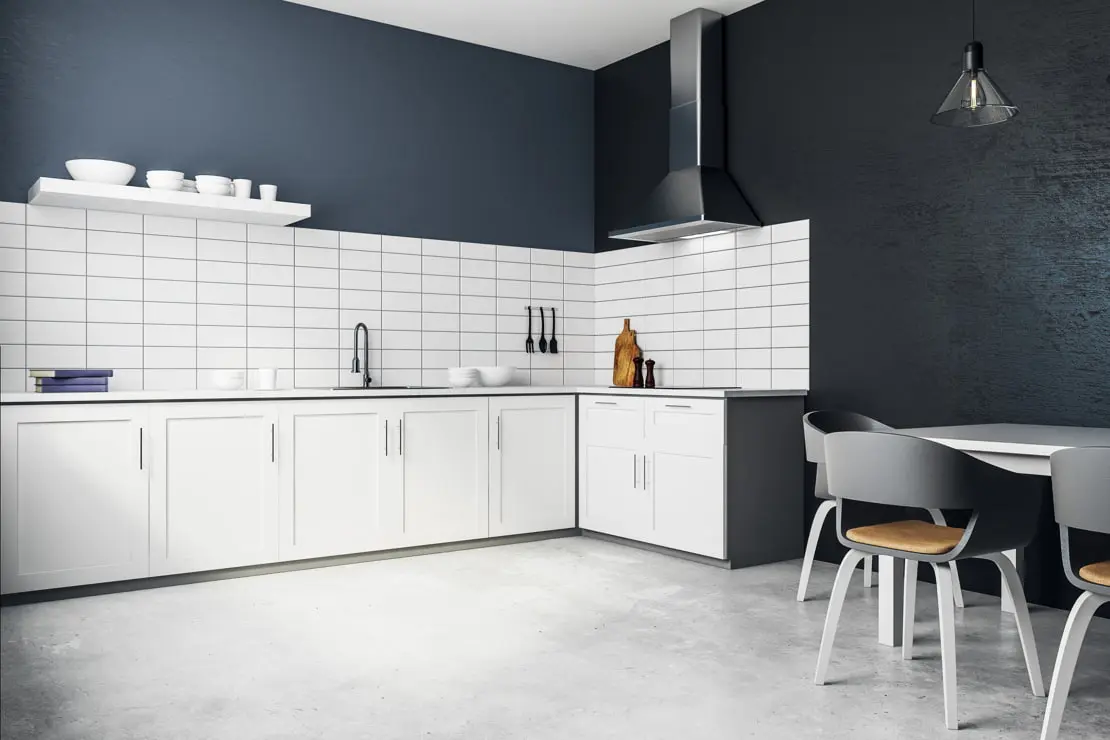 Microcement in a kitchen decorated with tiles on the walls in a minimalist inspiration
If it is a floor that is subjected to intense wear, the best choice is a coarse-grain microcement. On a decorative level, this type of product is ideal for giving the kitchen a rustic touch.
Microcement kitchens with coated walls
The kitchen walls are the best space to make this part of the house breathe and transmit the values of high decoration. The microcement cladding on the wall is a perfect combination of luxury and functionality.
On one hand it is a material that, thanks to the sealing applied, is resistant to humidity. On the other hand, the microcement on the walls translates into a silky finish that enhances the decorative style of the kitchen.
Fine texture finishes are able to adapt to any style and enhancing the quality and excellence of the room. With microcement kitchens, it is no longer necessary to limit yourself to the usual materials. Luxury Concrete offers you the latest microcement products to create designer kitchens beyond imagination.
Microcement countertop: the combination of resistance and aesthetics
The possibilities of microcement in the kitchen are not limited to floors and walls. Countertops are also a perfect space to achieve a personalized coating endowed with maximum resistance.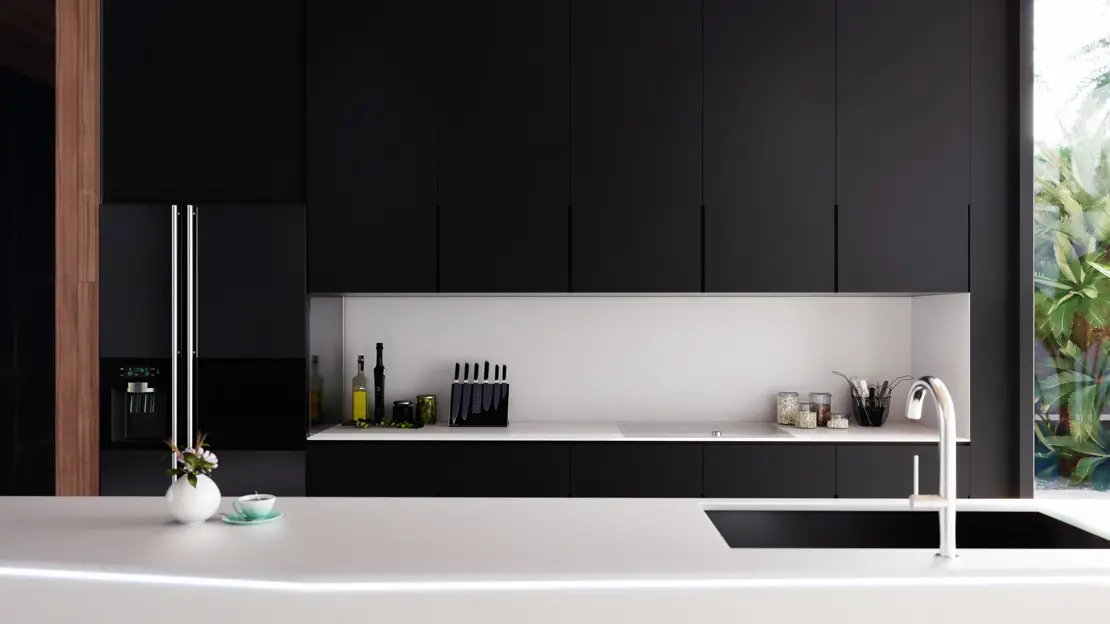 Microcement countertop in a kitchen where the combination of light and dark tones generates a contrast
Microcement countertops represent a perfect combination of aesthetics and resistance. They are synonymous with durability, elegance, quality, and functionality to offer an exclusive decorative atmosphere. The absence of joints enhances the hygiene of a space that is permanently in contact with food.
Microcement kitchens in light tones
Opting for light tones in microcement kitchens is a wise choice to give a greater sensation of spaciousness and convey freshness. Colors like white, beige, or gray never go out of fashion and, unlike more strident tones, they do not saturate.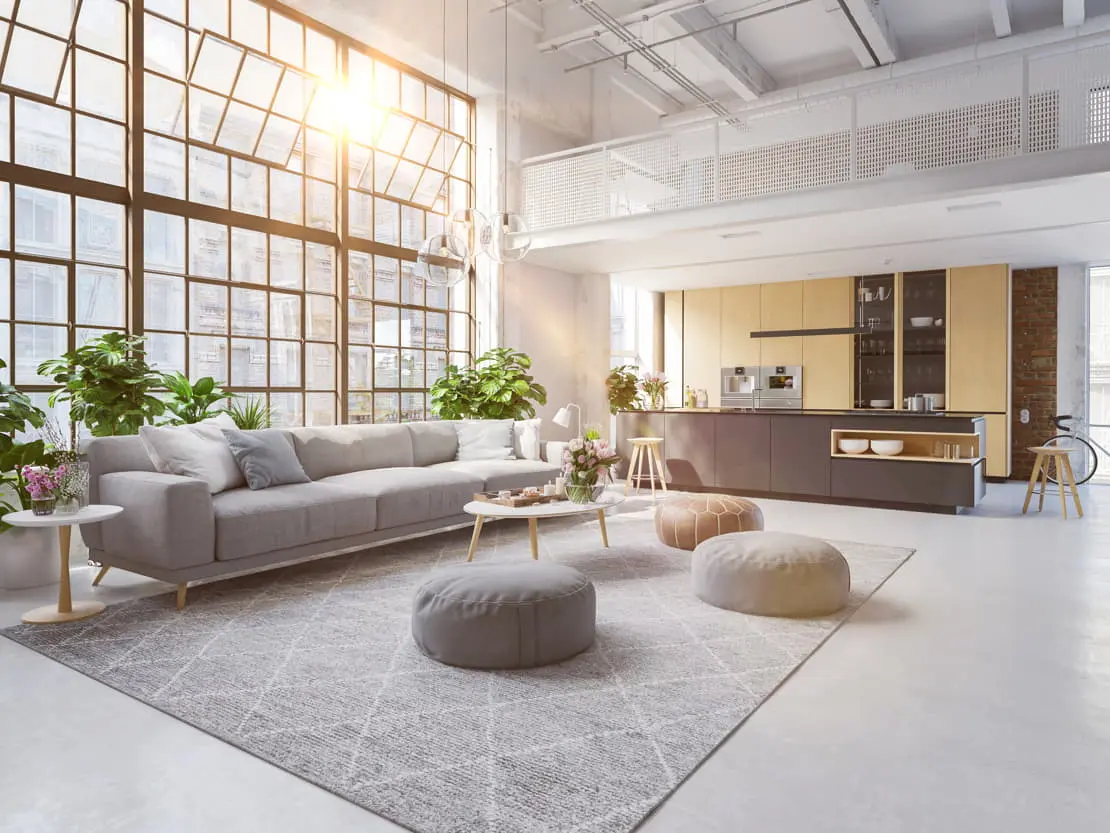 Microcement kitchen in an open space that connects with the living room
In a kitchen, light tones can add joy, brightness, and vitality in a relaxed way. These types of colors can be easily combined and are perfect for decorating the kitchen with a warm, welcoming, and sophisticated atmosphere. Gray is the quintessential color of microcement and a modern tone that matches very well with all colors.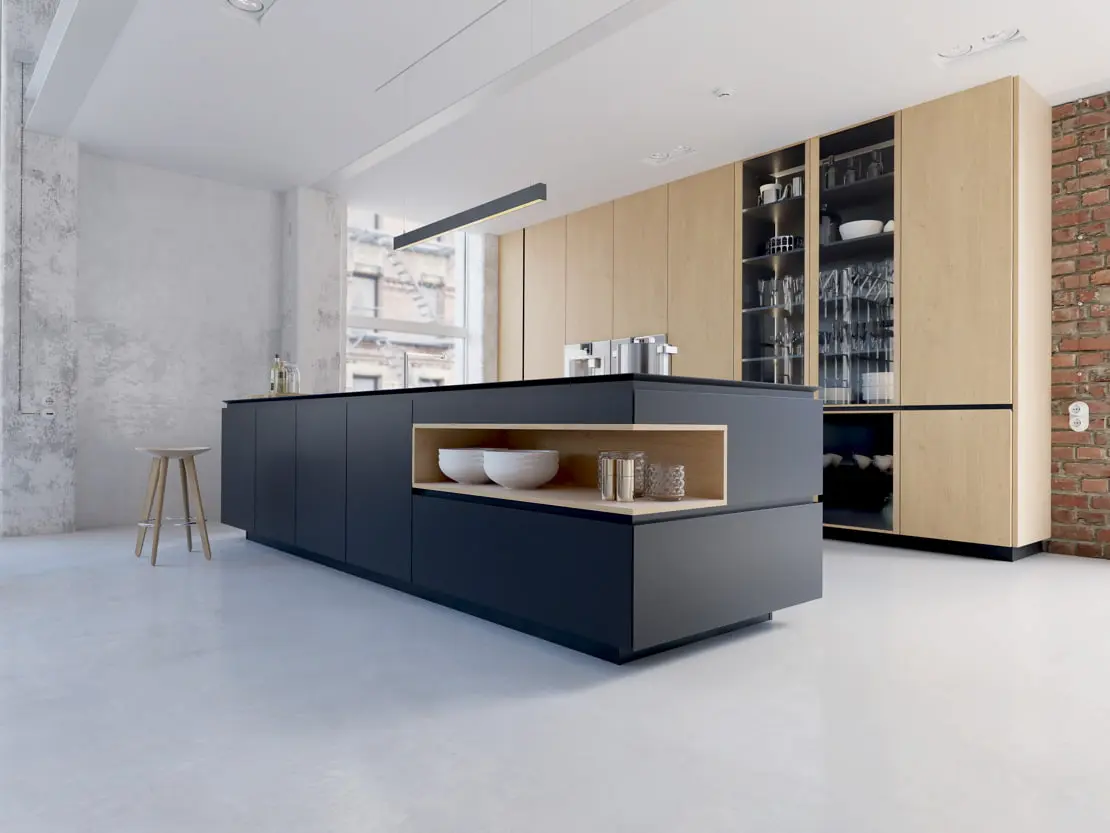 Microcement kitchen where exquisite furniture is combined with the exposed brick wall
In microcement kitchens, the combination of gray and black is modern and original. In the image above we see how the gray color dominates the environment and perfectly complements the black color of the island to generate a wonderful contrast. Once again, wood is present to add warmth.
Microcement kitchens that mix light and dark tones
Microcement kitchen designs in dark tones create a large visual impact, whether in a modern or vintage style. But if this decorative option does not convince us, we can always resort to the maxim that says opposites attract. That is, to decorate the kitchen by mixing light and dark tones.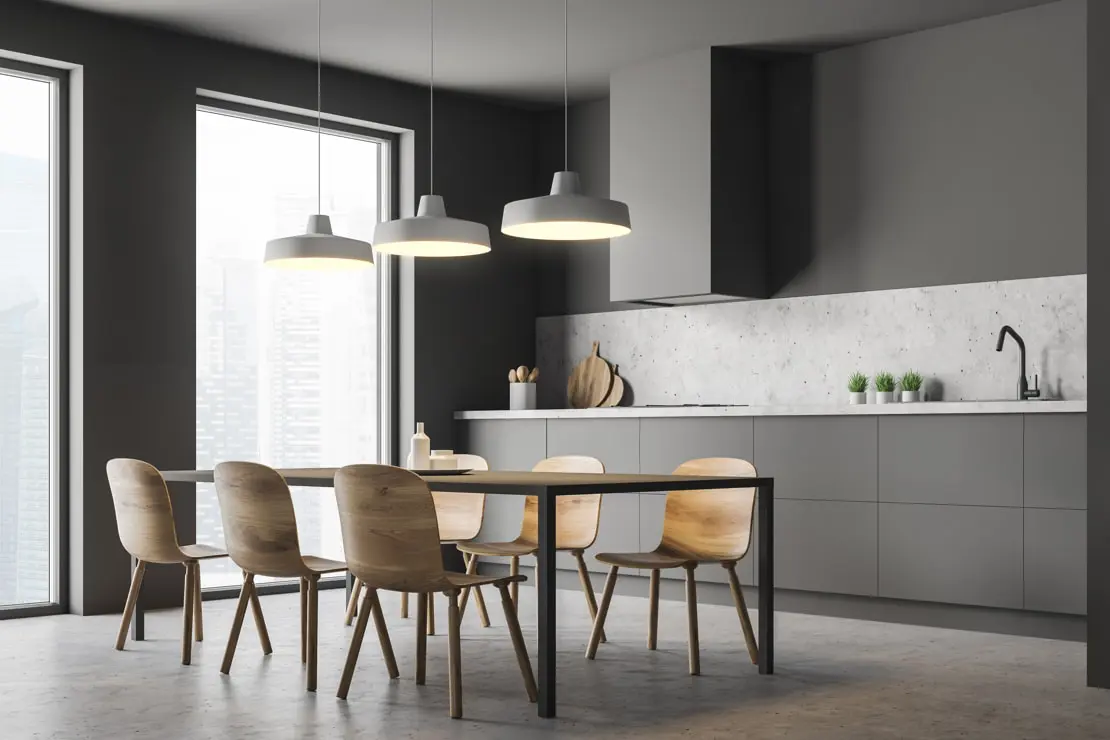 Microcement in a gray-toned kitchen with outdoor views
It can be a very good option if we do not want to commit so much to dark colors. It is a middle-ground decorative formula that conveys elegance and modernity while also conveying brightness and spaciousness. It is a good way to create contrast and enhance the touches of light that the kitchen can offer.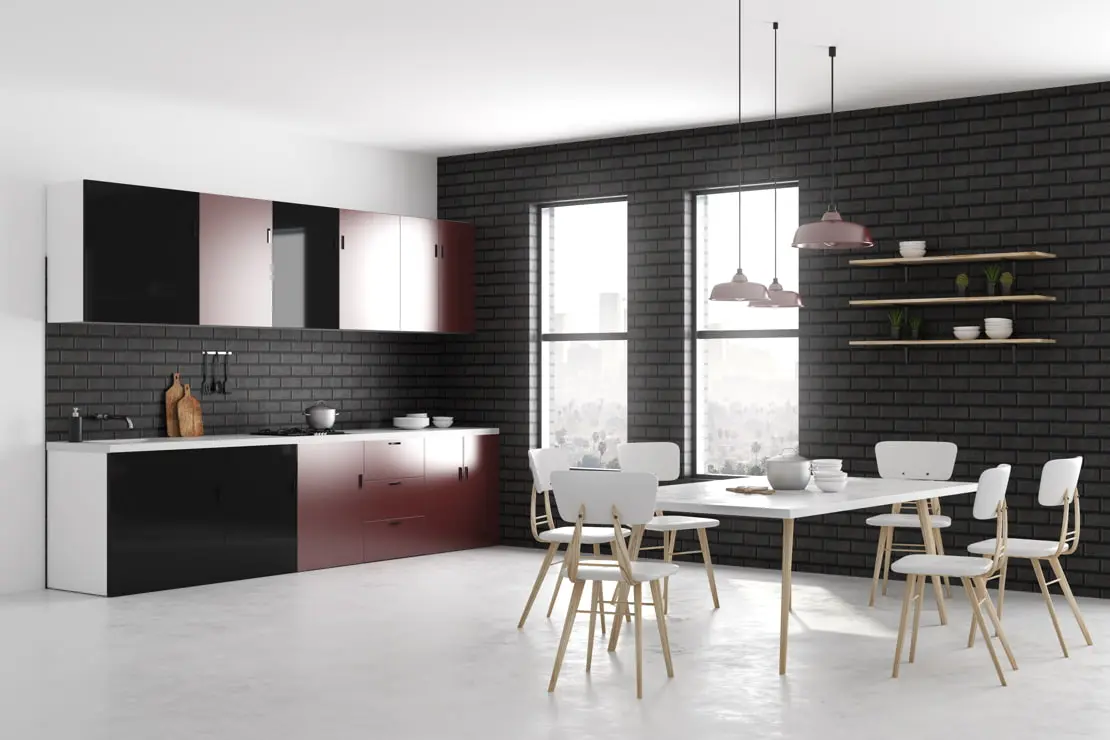 Microcement floor in a kitchen with exposed brick walls and furniture that combines black with red
If you are looking for a unique microcement kitchen, we have an idea for you. Paint the cabinets in color, leaving the back wall with exposed brick in pure industrial style and keep the furniture in white. This combination will give an original, modern, and very elegant touch.
Customizing, updating, and creating a modern space in your kitchen is within reach and, from Luxury Concrete, we want to help you and be your source of inspiration.
Microcement kitchen price
Are you thinking of renovating your kitchen and have you considered using microcement? Below we will tell you everything you need to know about the price of a microcement kitchen, as well as the factors that influence its price.
Microcement is a very versatile and resistant material increasingly used in interior and exterior decoration. In the case of kitchens, microcement is an excellent option for several reasons: it is easy to clean, resistant to moisture and stains, and offers a wide range of colors and finishes.
The price of a microcement kitchen depends on several factors. Firstly, the size of the kitchen is decisive for the final price. A small kitchen will require less material and labor than a large kitchen, so the cost will be lower.
Another factor that influences the cost is the current state of the kitchen. If the kitchen is in good condition and only needs to apply microcement over the existing surface, the cost will be lower than if it is necessary to remove the previous coating or level the floor.
The type of finish is also an important factor. There are different types of microcement finishes, such as matte, satin or glossy, and each one has a different price. In addition, some finishes may require a greater number of layers, which will increase the cost.
Finally, the final price will depend on the professional you choose to carry out the work. It is important to choose a professional with experience in the application of microcement to guarantee an optimal result. While there may be differences in price between one professional and another, it is important not to skimp on expenses to ensure the quality of the work.
In summary, the cost of a microcement kitchen will depend on the size of the kitchen, its current condition, the type of finish, and the professional chosen to carry out the work. In any case, it is an investment that is worth it, as microcement is a durable and easy-to-maintain material that will bring a modern and sophisticated look to your kitchen.