The kitchen has become the heart of the home for years and has ceased to be a gloomy space that was barely paid attention to. The evolution and new trends in interior design have made the kitchen a priority space around which family life revolves.
It is the part of the house where we spend a lot of time and it is an accomplice to our daily creativity. The transformation of the kitchen turns this part of the house into a space that is very much linked to design. It is a room where aesthetics and functionality necessarily have to go hand in hand.
If you've always dreamed of having a luxury kitchen, this is the ideal post. We bring you some tips to design a luxury kitchen that conveys an exquisite and exclusive atmosphere.
What features do luxury kitchens have?
Luxury kitchens symbolize a touch of distinction in our home, but it is important to know the characteristics that define them. They are basically related to the space distribution, the choice of materials and furniture, as well as the design.
Luxury kitchens are characterized by impeccable design and excellent use of space. All elements require meticulous planning.
1. Analyze the space and plan the distribution of the luxury kitchen
Above all, luxury kitchens symbolize an emblematic and distinctive touch in our home. They provide a marked character that combines culinary art and decorative creativity, but it is essential to take care of all the details to the maximum. A good distribution of space is essential to achieve a luxurious style.
Luxury kitchen with microcement floor and warm-toned decoration
The first decision we must make is whether we want the kitchen to be rectangular, square, if we bet on an island and take into account if there is any column that hinders the distribution. Space optimization is essential to give it greater functionality and have everything we need on a daily basis at hand.
2. High-end furniture, key for a luxury kitchen
Choosing the right furniture is the best way to give a unique style to the kitchen. You have to choose the furniture that matches our lifestyle and adapts to the use we make of the kitchen.
The choice of furniture is a decision that makes a difference in a truly luxury kitchen. Giving the kitchen a style that represents ostentation, is inevitably linked to decorative elements, such as mirrors, lamps or paintings.
All of them make this room convey warmth and elegance in equal parts. The tall furniture allows better use of space, in the same way that a dining and storage area is an excellent idea to make the kitchen more effective and functional.
The furniture in luxury kitchens offers excellent finishes and adapts perfectly to the space.
3. Opt for stone or wood countertops for a luxury kitchen
The entire kitchen should breathe a touch of distinction and countertops are a perfect ally. In a luxury kitchen, it is essential to have a high-quality countertop that highlights the design of the room and is also resistant to heat, blows, and scratches that predominate in day-to-day life.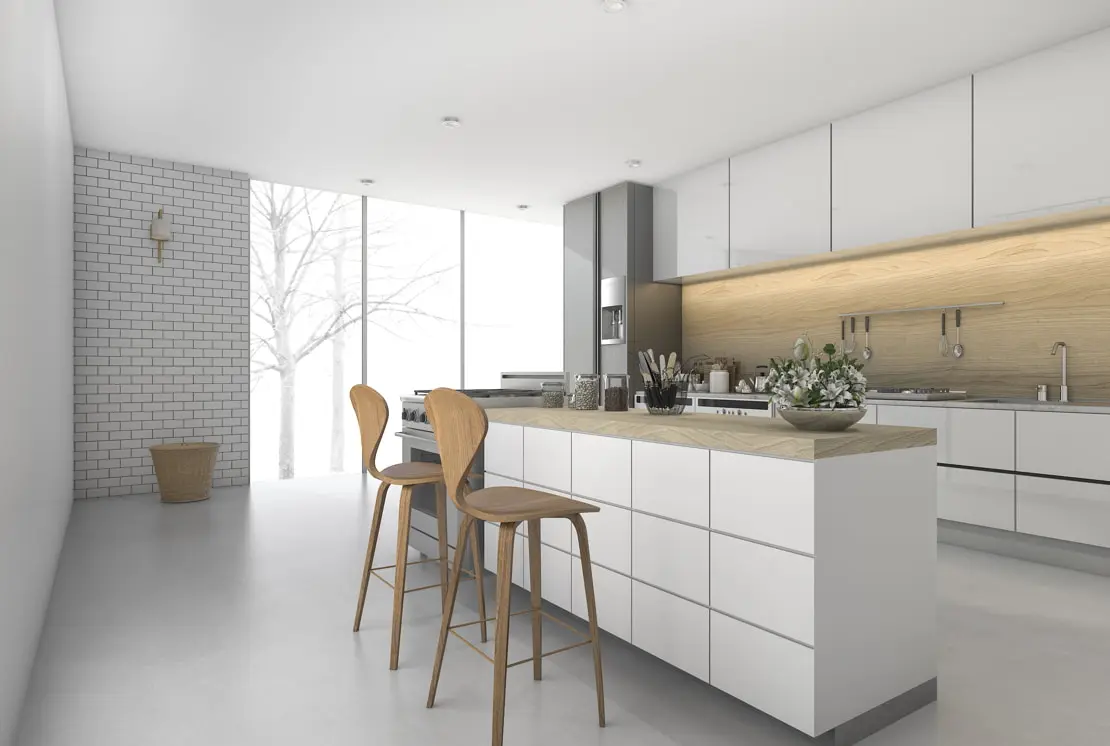 Wooden countertop in a luxury kitchen decorated with neutral tones
The high-quality finishes of the countertops are also decisive in conveying a character of distinction. The most recommended options are microcement, stone, or treated wood countertops. Choose the countertop with the appearance that best suits your desires and complement it with seamless sinks or stainless steel back panels.
4. Choose a color that enhances the light for a luxury kitchen
The choice of colors for a luxury kitchen is a decision that influences the style and brightness. Choosing the right color depends on our taste, but also on the personality we want the luxury kitchen to convey.
If we want our dream kitchen to convey vitality, we must avoid dark tones. The idea of a room that has life is associated with light colors and natural light.
This does not mean that black should be discarded, as it is a color inseparable from the concept of elegance. But it is advisable to use it appropriately. A good choice is to opt for black on a wall and combine it with white tones in the rest of the furniture.
5. Luxury kitchen with continuous coverings on floors and walls
When we think about kitchen design, the image of floors and walls with tiles comes to mind, but the reality is that new decorative trends have brought ideas that provide that style that a kitchen should have to convey luxury and exhibit a unique personality.
For this, using continuous coatings for floors and walls can be differential. This is the case with microcement, whose absence of joints enhances the feeling of being in a luxury kitchen.
Ceramic materials, wooden floors, and wallpapered walls are another possibility for designing an elegant kitchen.
6. Large sinks cannot be missing in a luxury kitchen
To have a luxury kitchen, it is important to think about how we want the sink area to be. This space is important for maintaining order and being able to move around without problems while we cook or have a coffee on the island.
Whenever space allows, it is advisable to allocate a good amount of space for the sink, either in a two-basin piece or a very large one. For this area, it is advisable to opt for resistant materials that are in harmony with the rest of the luxury kitchen furniture.
Microcement in the design of luxury kitchens
Luxury kitchen design projects agree on betting on the conquest of light and the breadth of spaces, which leads to the microcement as the best ally.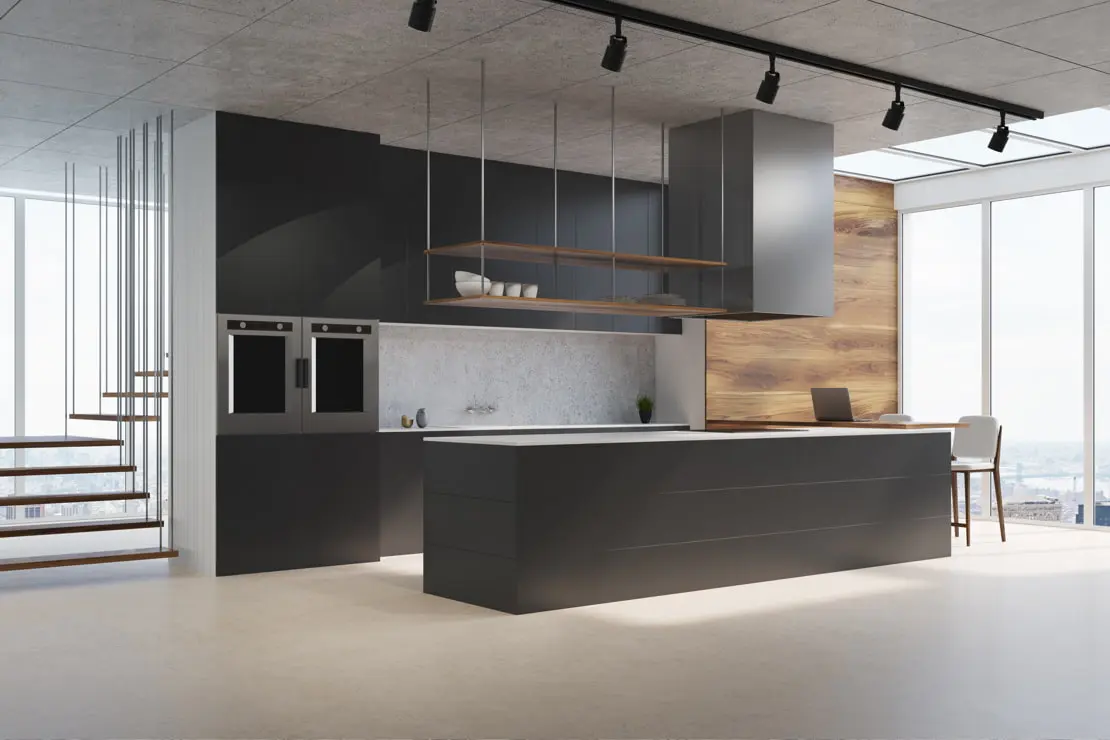 Microcement in a luxury kitchen equipped with spacious areas and an extensive island
This decorative coating, unlike traditional tiles, has no joints, which enhances the breadth of the surface and greatly facilitates its cleaning. The application of microcement on floors, walls, and countertops is a guarantee of safety.
It is a particularly interesting material for the kitchen, as it is resistant to high temperatures, abrasion, and wear. If you are considering the option of using microcement for the design of your luxury kitchen, trust in expert hands for unforgettable finishes.
Luxury kitchens lined with microcement they are a perfect combination to create exclusive and exquisite atmospheres.