The sublime features of the microcement, as well as the great diversity in its fields of application, have made this luxury decorative coating one of the great allies of construction professionals to carry out all kinds of works.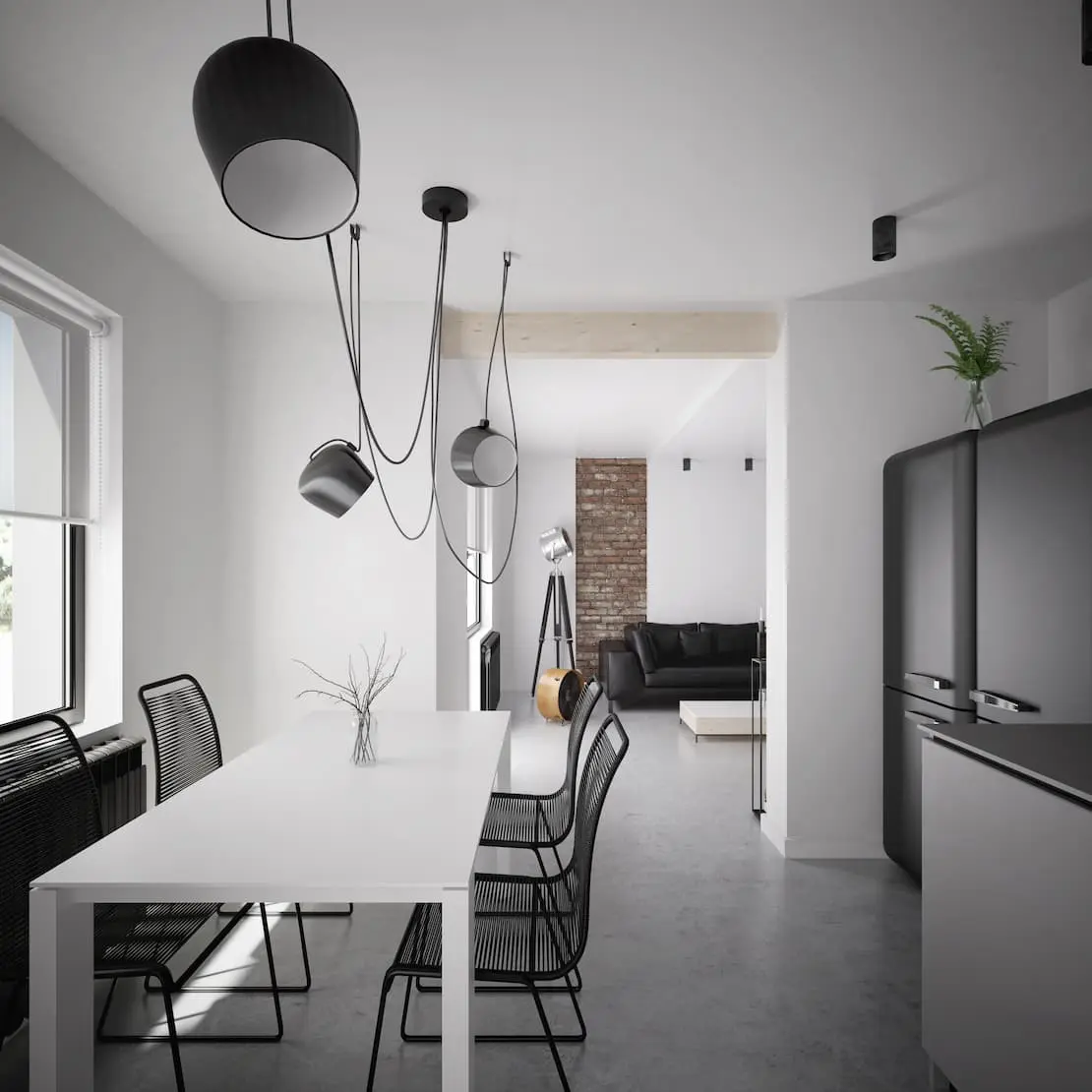 Although its most well-known uses are undoubtedly in the coating of floors and walls, it is increasingly common to see its application on all kinds of surfaces such as terraces, facades, ceilings and even furniture, as the latter have the special feature of being able to be custom-made, thus adapting to a wide range of spaces of different nature and sizes and, therefore, being a very practical option.
In this way, microcement countertops have positioned themselves as number one on the podium of furniture coated with this innovative material for reasons related to their exquisite aesthetics, functionality, and versatility in their uses.
Its peculiar sense of continuity, the vast chromatic range it has, as well as the possibility of achieving different aspects and results have made microcement countertops become a fashionable furniture. A trend with numerous advantages ready to conquer you in every way and that, at Luxury Concrete®, we tell you about below.
Exclusive advantages of microcement countertops
When choosing the material that will star in the creation of a new countertop or its renovation, it is important not to limit oneself only to choosing the color and texture that will make up its aesthetics since, countertops, are surfaces that also require an option that competently responds to the specific demands and needs of their surfaces, such as frequent contact with water, the appearance of stains, easy cleaning, and resistance to abrasion.
The microcement countertops are one of the smartest options for this popular kitchen furniture, as they successfully meet these requirements and also guarantee other smart advantages that place this coating as the perfect material for its application also in the rest of the kitchen surfaces, bathrooms, hotels, cafes or restaurants, among a long list of options.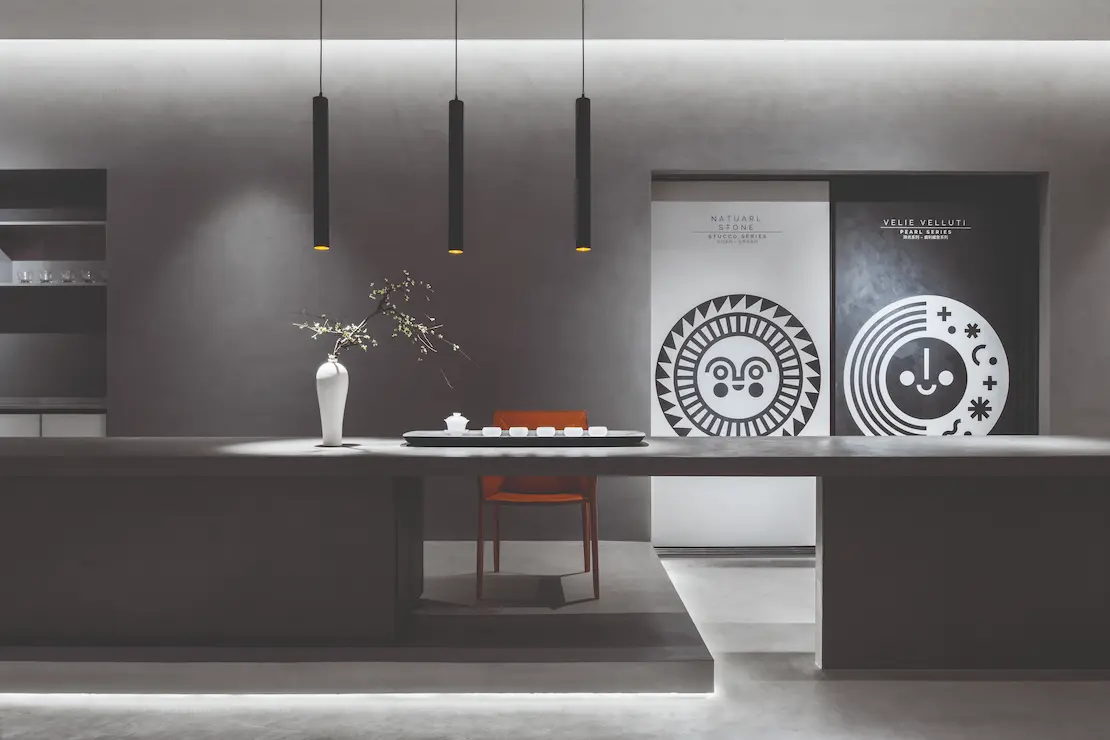 1. The dream cleaning: easy, fast and effective
Countertops are characterized by being constantly exposed to dirt. A piece of furniture where we not only prepare the most exquisite culinary tastings, but also serves as a support for objects, and lately, increasingly even to carry out the main meals of the day.
A surface that, given the growing popularity of the kitchen not only as a place for recipe preparation, but also as a space to invest leisure time, conversations, laughs and even work, is used more and more every day. And hence the importance of it being especially cared for, pampered and protected.
Microcement countertops are characterized by being very easy to clean. It is enough to pass a cloth or mop with neutral pH soap and water to ensure a quick, easy and one-pass cleaning. And it is that its continuous surface, characterized by the absence of joints and interruption lines, allows dirt to stop accumulating, thus preventing the proliferation of germs and bacteria and enhancing much more hygienic surfaces. The desired cleaning that makes life easier for people.
It coexists perfectly with humidity
Microcement is a material with excellent resistance to environmental humidity and, in addition, allows the possibility of being waterproof when sealed with specific products that respond to this need.
Hence, microcement countertops become an ideal option present in any type of kitchens. Surfaces prepared to be frequented by water and other fluids, without being minimally altered. Its subsequent coating with a varnish, creates a protective film that prevents the filtration of water into its interior and repels the appearance of moisture stains. Functionality and protection guaranteed in one of the most used (and loved) surfaces of any home.
3. Microcement countertops: durable quality
Cleaning more than simple and maintenance that stands out for being practically nil. In this way, without making great efforts or carrying out tedious care, the microcement countertops are prepared to last many years.
An aspect that sets them apart from the rest of the market alternatives since the vast majority of coatings require to be reviewed over time.
4. Functionality and resistance as a guarantee
Imagine having an endless workbench dominated by continuity where you can unleash your culinary creativity, preparing dishes worthy of a chef, without having to fear abrasion, stains, cleaning products, impacts and scratches, and without water contact posing a threat.
This is how microcement countertops respond. A functionality that dominates the surfaces, bringing out the best version of them for cooking, elaborating, preparing and carrying out a thousand more actions, without fearing being damaged or punished, as they are extremely resistant and are really prepared for any kind of action.
5. Attractive aesthetics dominated by personality
Microcement countertops are fully customizable. This noble coating allows the user to choose its appearance. A vast catalog with a wide variety of available colors that adapt to the intention and decorative style pursued.
The possibility that its aesthetics evoke a rustic style, with rougher textures; the vintage style, through aged or rusted finishes; minimalist, when opting for smooth, fine and silky textures and neutral colors or industrial, with those textures that mimic cementitious materials.
In any case, one of the great attractions of microcement responds precisely to the fact that its design, appearance or aesthetics can be adapted to the taste, character or personality of each user. Infinite combinations of textures, colors and finishes, conceived and designed to achieve all kinds of intentions and that perfectly match with other materials such as wood, metals or concrete.
Elegance and timelessness as protagonists in microcement countertops that achieve a very natural appearance, and that can proudly boast of having a high decorative value.
6. Application without a speck of dust
If microcement is an option that stands out against the rest of the market coatings for many reasons, but we could say that only it can boast the power to be applied directly over all types of materials without the need to remove the previous support.
And the fact is, even though we strongly desire to renovate our old surfaces or create new ones, the truth is that we often firmly fear getting involved in construction, whatever the type. Noise, dust, debris, and dirt become the worst enemies, despite having internalized our desire to carry out the transformation of a room.
Microcement gives you everything that no other material had given you before: an application without raising the slightest speck of dust. It adheres perfectly to the existing support, regardless of its nature: stone, ceramic, marble or tiles, among many others and with the exception of wood. In addition, its malleability allows it to successfully adapt to the shape of any countertop, renewing in an easy, clean and fast way while achieving the most exquisite results.
How to make a microcement countertop, step by step
Microcement is a material whose main property is exclusivity, that which makes it unique and singular and sets it apart from the rest. And if this is so, it is largely due to its artisanal application. An application that is considered an art and cannot be delegated to just anyone, as only qualified experts in the field are capable of creating successful results and meeting the most demanding expectations.
The process in the installation of a microcement countertop depends on the intended finish and the material that serves as the base of the surface. It may be that the latter is an absorbent coating such as plaster, cement and sand plastering or plasterboard, for example, or on the contrary, it is a non-absorbent coating such as tiles, marble, granite or terrazzo.
In any case, optimally preparing the support is fundamental. It is essential to ensure that the material to be coated is free of grease, moisture, and dust, as well as that the base is consolidated and in perfect condition.
At Luxury Concrete® we tell you how to make a microcement countertop in detail and step by step. Take note.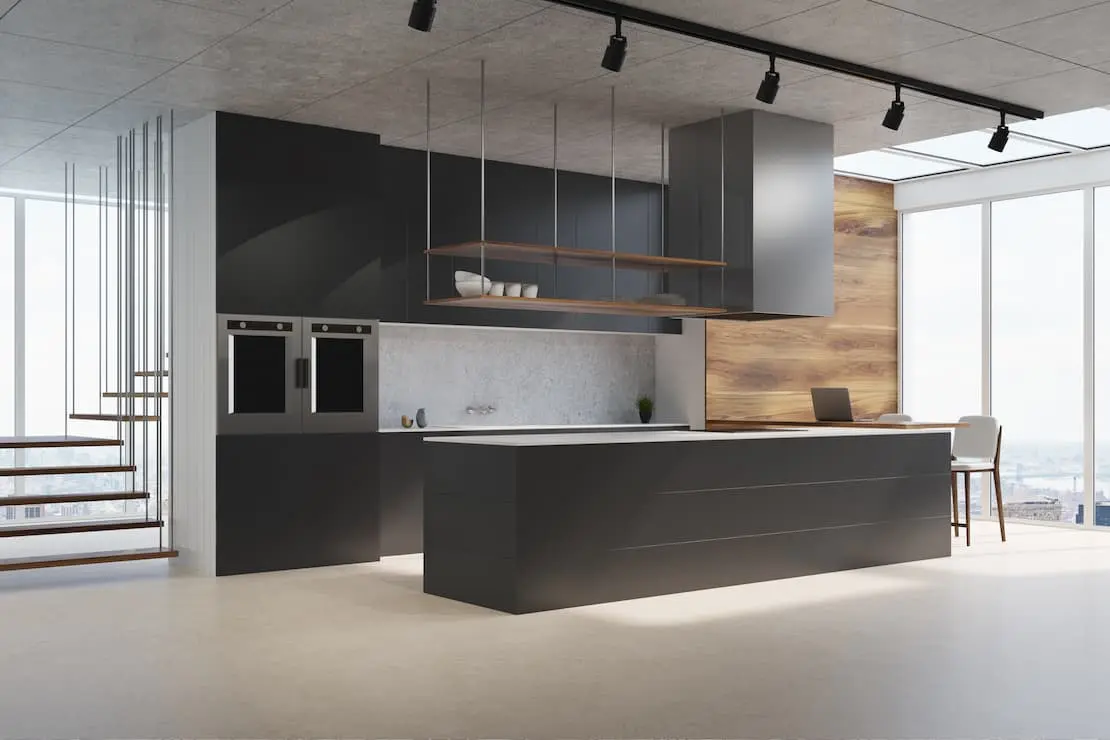 1. Essential: placement of fiberglass mesh
The previous step to the application is the installation of a fiberglass mesh on the surface to be coated that will serve as the base for the microcement countertop.
This is a step of special importance, as it will guarantee the grip and stability to the support, preventing the appearance of cracks or fissures over time.
2. Primer or bonding bridge
The primer is responsible for facilitating the total adhesion of the base microcement to the countertop surface.
3. Microcement base or preparation
The base microcement offers a coarser grain than the rest, therefore, the application of two layers as a preparation base on the microcement countertop is a guarantee of success by offering high mechanical resistance and strong adherence to the support.
4. Finishing microcement
Next, two finishing layers of microcement will be applied. The texture of this product will depend on the desired finish or effect. The option to customize and create a microcement countertop completely adapted to the taste, character or personality of each user is a luxury aspect for the creation of the most exquisite and exclusive surfaces.
5. Surface drying
After 24-48 hours following the application of the second coat of the finishing product and always ensuring that the surface is completely dry, the microcement countertop will be sanded.
6. Sealing varnish
And as a final step that will ensure the maximum protection and distinction in the results, two coats of the chosen sealer varnish, depending on the desired finish, which will guarantee an appearance characterized by the union of luxury and beauty for the creation of microcement countertops of a completely incalculable decorative and aesthetic value.
Kitchen with island and microcement countertop: the sublime duo that sweeps in decoration
There are a wide variety of options when it comes to designing a room that truly welcomes you for its comfort and well-being.
One of the decorative trends that is sweeping in interior design to remodel spaces or create them from scratch, is the combination of kitchen with island and microcement countertop.
The kitchen with island is the great revolution in interior design. A trend whose success lies in its ability to strongly enhance the functionality of kitchens in every sense, while achieving an aesthetic characterized by extreme beauty.
And it is that, the current trend "one concept" encompasses the fact of tearing down partitions and walls, thus uniting kitchen with living room and, sometimes, even also with the terrace. In this way, completely diaphanous spaces are achieved that are perceived as a whole, visually and sensorially increasing the amplitude of the rooms and thus achieving a greater brightness. A luxury for the creation of atmospheres and pleasant places, dominated by the most exquisite comfort and design.
Kitchens with islands are the room where to invest quality time with the rest of the tenants or guests. They are used for the preparation and making of tasty recipes, while being accompanied, laughing, sharing and exchanging opinions, chatting, enjoying a delicious appetizer or, while the other person is simply sitting next to you on a comfortable and stylish stool.
They have become the meeting point of the house, thus uniting two environments and ending the separation and boundaries to share and experience much more than before. And in a much more comfortable and pleasant way. The main axis of a home that, in addition to serving as a meeting point, has some very interesting functional features.
Coating the kitchen island, creating a microcement countertop will enhance (even more if possible) the perception of total spaciousness of the room, creating open spaces in which to flow freely. This spaciousness, will create a greater brightness, thus exploiting the feeling of warmth, embrace and comfort that characterize well-lit spaces. A continuity that will be the most faithful reflection of both factors for the design of dream rooms that manage to captivate you with their charms.
What is the price of microcement countertops?
Its price will fluctuate depending on multiple factors: the shape of the countertop, its length and meters to cover, the complexity of the project and even the type of microcement chosen for its coating.
To know how much microcement countertops cost, it is necessary to go to a qualified professional. Only he will be able to determine a tailored and personalized budget, completely adapted to the characteristics, needs and demands of each project.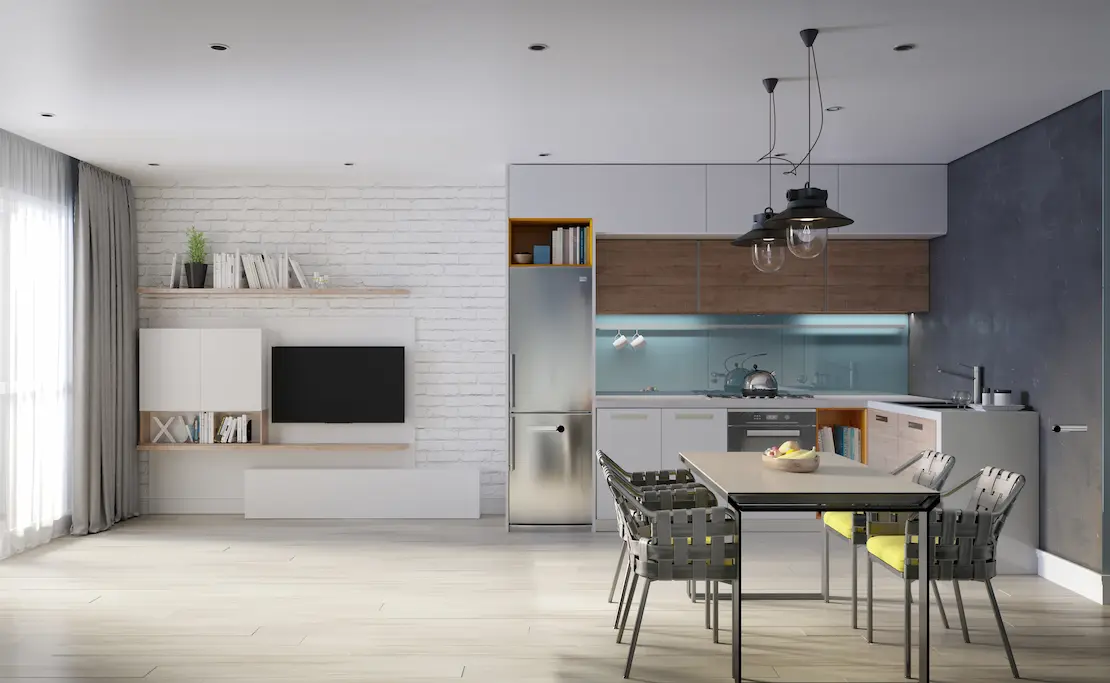 Let yourself be seduced by the exquisiteness of Luxury Concrete® on your microcement countertop
The renovation or creation of microcement countertops, whose results reach supreme excellence, also requires the choice of the most competent materials. Those most advanced, avant-garde, and with a quality that far exceeds limits and borders. Just what the luxury coatings of Luxury Concrete® offer.
We manufacture microcement systems characterized by achieving sublime results. Perfect for application on any type of countertop to achieve a delicate, elegant, and sophisticated appearance, which accurately meets the demands of the most used, frequented, and exposed surfaces on a daily basis.
Premium coatings that allow the most exclusive designs for microcement countertops in all rooms and spaces. A decorative solution that is also innovative and durable, characterized by excellence in its responses.