If you are passionate about decoration combined with luxury and exquisiteness, it is a fact that you will always seek to make your rooms endowed with a very special and distinctive touch. Achieving this is not always easy, because stylish decoration require the best ideas in their design, combination and distribution. Ideas we don't always have.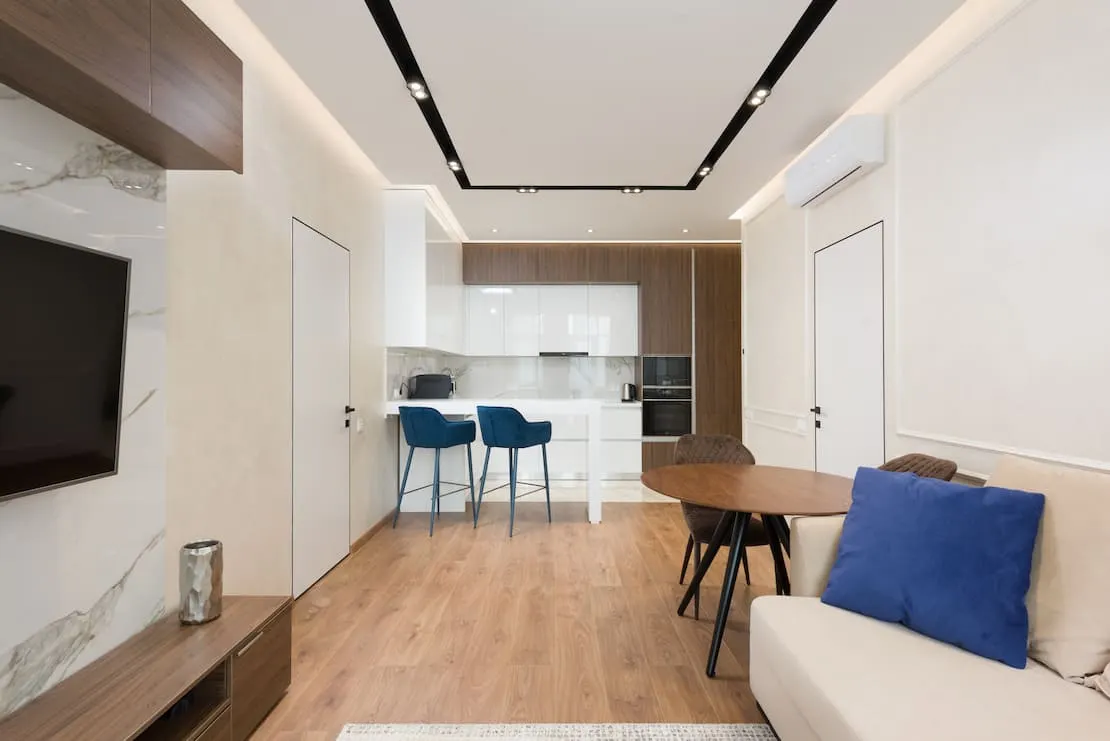 In small spaces, this intention is even more complicated. Decorating small apartments in a sophisticated way, while making them charming and aiming to make them look visually larger, can be a real challenge for us. Or at least, it could be before reading this news.
At Luxury Concrete®, we have the most exquisite design ideas and tips to turn your mini apartment into a luxury palace. Textures, materials, distribution and furniture that, strategically, become faithful allies to increase the space feeling in an easy and simple way. Interior design tips that will help you in creating a sophisticated and elegant style, while getting the maximum functionality to take advantage of every corner, enjoy it and that, in addition, manages to captivate you.
5 fail-proof ideas for small apartment decoration (and exquisite ones)
The minimalist trend is the star of the moment in interior decoration, especially when the main intention is to make a house a real home. This style, full of nuances, manages, with very little, to create a completely unique, distinctive, and cozy atmosphere, full of connotations that immediately transport us to spaces where comfort and elegance dominate. A most special union.
A concept that carries the flag of "less is more", reducing the decorative elements to the basic, to the really useful, necessary, and functional, and taking as a reference the idea that playing with other types of components is possible to achieve absolute success in the decoration of small flats, without necessarily the abundance of elements being precisely what creates the design. In this way, we achieve small spaces but very well used, as they are not overloaded with excessive decorative elements and, however, their style is charming.
Because simplicity is always the most elegant. And minimalism corroborates it. The perception of a diaphanous, pure and freed atmosphere. The idea of decorating using small details related not necessarily to elements, but to textures or color schemes. In this way, the surface or space ceases to be a limitation while its character is differentiated, stands out, and enchants.
And it is that, far from thinking that small places can be a handicap when decorating them, they are not. They are a real advantage. Reduced spaces have the strong point of creating a much cozier space, if possible. In this way, the possibilities multiply for the housing to understand a much more exquisite, much more exclusive character, where personality is the main protagonist.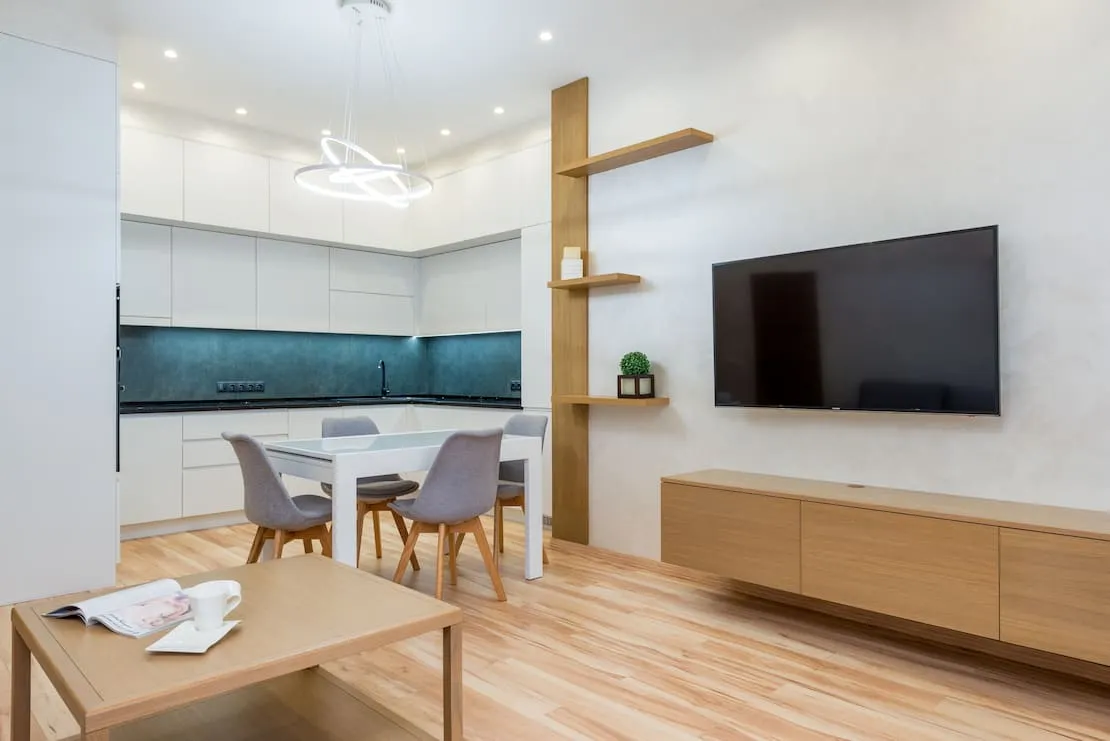 1. Unity to let the space flow
Despite the fact that today the aesthetic trend is pursued or that which is able to combine various styles to create a personal and unique one, the truth is that this takes on a special meaning when the elements that are combined with each other belong to the same color range.
Painting the walls of each room in a different color is a trend that fell out of fashion a long time ago. What really is trending and is going to be a fundamental choice when it comes to decorating a small flat, is going to be the uniform combination of tones. This fusion is what's going to create an exquisite harmony between simplicity and exclusivity, with not overly complicated, but very stylish surfaces.
An example of a combination of materials and colors that perfectly matches the decoration of small flats is the use of neutral tones such as white, beige or gray. Colors that, combined with each other, turn mini spaces into places with a very peculiar character.
A character that is dominated by greater spaciousness and brightness. Neutral colors have that gift of creating open rooms and also making them wider and brighter in their tone.
A special style achieved by combining the color range to achieve a union. And this union is what gives birth to a decorative style of its own, unique and exclusive. A uniformity for the creation of rooms that, despite having reduced dimensions, form a unit and therefore, are perceived as a whole.
And this is how the space flows.
2. Brushstrokes of color to attract glances
The fact of using a same color range for the creation of a very personal and exclusive style does not mean that the use of small strokes of color is forbidden. On the contrary: they will serve as a focal point to draw attention.
And the fact is, this season, the combination of color ranges in interior decoration is the main protagonist to make rooms have their own style. But so is betting on color in the details.
A timeless option and one that, moreover, gains more prominence every day, is to use plants to add color. Their greens, in different shades, are a sure hit to create contrast with the rest of the chosen colors, as well as to give an extra touch of life and joy in the decoration of small flats. Besides, green is one of the favorite colors when it comes to decorating rooms as it's an option that connotes freshness, security and relaxation.
The influence of nature is one of the most sought-after choices when it comes to setting up the decoration of any kind of space. Similarly, neutral colors and their minimalist trend visually enlarge the dimensions of homes and allow the creation of a very special light, plants create a slight contrast with these shades, creating focal points that, combined with other textures of natural character such as wicker or vegetable fibers, are the best option for the creation of cozy, stylish and warm places.
A unique contrast where less is more and where the difference is determined by the small details. Of course, always in a controlled manner.
3. The key: seamless materials for floors and walls
Although there are numerous materials with which to cover floors and walls, one of the most capable while stylish options in the decoration of small flats is the microcement.
This decorative coating has the special characteristic of achieving surfaces without joints in which, the absence of interruption lines, allows the creation of continuous spaces, thanks to which the rooms seem much bigger than they really are.
An attractiveness measured by the greater amplitude, functionality and brightness to which are added its truly luxurious finishes. Continuity conveys distinction, sophistication and elegance in any space of the home, maximizing the amplitude and facilitating unparalleled maintenance.
A material specially designed for the personalization of surfaces, in such a way that each wall and floor is capable of creating an exclusive and most attractive decorative style.
An option that not only differs in the creation of authentic atmospheres of luxury and exquisiteness, but also has unique properties. A high resistance to sudden temperature changes, to abrasion and to wear caused by time. Surfaces that, indoor or outdoor, are waterproof and slip resistant and are not altered in quality of cracks or fissures regardless of being installed on especially worn or exposed surfaces, such as kitchen counters, shower trays and other surfaces frequently used in daily life.
Supreme quality that, applied directly on the support to be coated, gives them a special hardness, resistance, functionality, and beauty. Excellence that, without needing to make reforms, includes finishes characterized by a high decorative value. A layer as light as a feather, of a maximum of 3 mm, which prevents reducing the dimensions of the rooms, starring highly protected areas, beautiful and with an aesthetic that extends over the years, and even decades.
Aesthetic beauty capable of aligning with any decorative style. The material that responds as a competent solution for the decoration of small apartments, while protecting them and bringing out the best in them.
4. Vertical decoration
One of the best ideas in decorating small apartments is to decorate vertically.
Decorating horizontally, often, can especially reduce the dimensions of the rooms. However, adding floating shelves on the walls, without being excessively loaded, allows to gain extra storage while creating a sense of verticality and visual movement. This makes the rooms appear larger. And of course, with that distinctive exclusive touch.
This option is very useful, for example, for the decoration of the bathroom. And that is, its planning is essential. The shelves, hangers, shelves, coat racks, or organizations are mandatory elements to organize all the elements that make up the bathroom.
The hanging toilets, for example, are a resource that has become very trendy due to their ability to take advantage of the space in the bathrooms, occupy less space and, in addition, achieve a very modern and distinctive air.
5. Open concept: open spaces that are trending
The concept that is sweeping in the decoration of small apartments, and even in those not so small, is the open concept, literally translated as "open concept".
This option is characterized basically in removing partitions, eliminating divisions and walls and creating a diaphanous plan common between the living room, kitchen, and even sometimes, the terrace.
A resource that has become the favorite of interior design professionals. The reason? The ability to bring out the best in rooms.
Dispensing with doors, walls or partitions is a perfect technique to increase spaciousness and luminosity, leading to open spaces. Spaces whose sensations are completely positive. Vertical surfaces only take up space, their removal allows you to gain space and tranquility. In this way, you get useful meters and enjoy a more versatile space, making the union of kitchen and living room, a meeting point where to prepare the most delicious culinary tastings, while enjoying the company of our loved ones.
The ideal blend of two areas that fuse functionality with an exquisite sense of comfort and pleasure. A very special all in one.
On the other hand, there is the option to replace walls or partitions with glass panels. One of the most competent ways to create spatial continuity, achieve a very peculiar decorative effect and, in turn, decide when and at what time the rooms separate or merge with each other with the most luxurious results.
Common mistakes to avoid in decorating small apartments
Bringing out the best version in decorating small apartments is easier than you ever thought after having read our exclusive interior design tips. Achieving the supreme luxury while exploiting every corner of your room, while you make its style occupy the gazes of all who frequent it, is a real fantasy.
A mini apartment can have more charm than one of larger dimensions and manage to be more attractive, cozy and functional. Certainly. And now that you know how to make your small home the most desired in your environment, we also tell you the most common mistakes in decorating a small flat. Details very easy to avoid to exploit all its potential, because believe us, it has it.
Dark Colors: Big Mistake in Decorating Small Apartments
Choosing a dark color to highlight a specific surface is something that is often done. However, far from making a wall or floor entirely dominated by a dark tone, it can be used in small details or simply not used at all.
Dark colors, as a general rule, make spaces look smaller. The reason is that they reduce brightness, which, in turn, conveys a sense of less spaciousness. Concepts that go hand in hand and are especially important for creating real dream homes.
Ideally, always use neutral colors and their combinations in the color spectrum. It's the smartest way to get small apartment decoration right and make the most of all their resources, functionality, and aesthetics.
Homes where size doesn't matter. Cozy and with a completely attractive appearance, without their reduced dimensions being an obstacle to make the most of all their charm.
"No" to Furniture That Obstructs Natural Light
Natural light is one of the essential elements that can improve its atmosphere and give it an immeasurable luxury or, on the contrary, noticeably worsen its environment.
Choosing the right light is critical because it brings warmth to the space, giving it a very special character that often changes the total perception of the rooms. It's ideal to opt for warm lights and avoid white ones, in order to create a much cozier, warmer, and closer atmosphere. An atmosphere capable of captivating.
And, although it is a fact that light can positively or negatively affect the connotations of a home, the way in which the furniture is arranged will have a lot to do, especially if its distribution can affect the light source.
Less is more and we have been saying it from the beginning. Therefore, avoid the temptation to overload small apartments' decoration with excessively bulky storage furniture. Often, they can become a barrier that hinders the passage of light and additionally overloads the entire atmosphere.
Avoid saturating in small apartment's decoration
The most beautiful is always the simplest, especially when it comes to interior decoration.
The reasons are simple: the saturation of objects and decorative elements obstructs people's transits, energy flow and gives a sense of little visual freedom, of complete interruption.
When it comes to implementing decoration in small apartments, like in larger spaces, it is vital to count on the fundamental elements, the just and necessary ones. Those who manage to decorate with their character, texture and color range. Because remember that one of the best ways to decorate without overloading is to do it with the color and texture game of the existing elements. It allows you to decorate and, additionally, gives a special, exquisite, and distinctive character. Originality and creativity that speak for themselves.
For this reason, when considering whether or not to include a new decorative object in your small apartment, we recommend that you do not do it. Almost always it will be an object that is dispensable and whose use is limited. Remember that minimalism and simplicity are the most faithful reflection of elegance.