When we are about to decorate the bedroom, we always have in mind rooms worthy of being part of an interior design magazine, both for their decorative style and for the furniture. There are luxury rooms for all tastes, but if you want to achieve an exclusive look, the starting point is to design the room with a timeless base. This way it is easier to adapt it to changing trends.
At Luxury Concrete we propose a series of tips to create luxury bedrooms that convey a sophisticated atmosphere, similar to the ones we can find in our favorite movies. You will achieve giving the bedroom the elegant touch you so desire without needing to make big changes.
How to decorate a luxury room?
Creating or decorating a luxury room implies taking care of the smallest details. The selection of materials or the combination of colors is not enough. The room to be luxurious does not have to be impersonal. A good decision is to have few elements, but well chosen ones.
1- Sober furniture and simple lines
To decorate a luxury room, the furniture does not have to monopolize attention. Opting for sober furniture and simple lines is a success, as it allows the role to fall on decorative coverings and accessories. Luxury rooms avoid the saturation of furniture to enjoy wide and open spaces.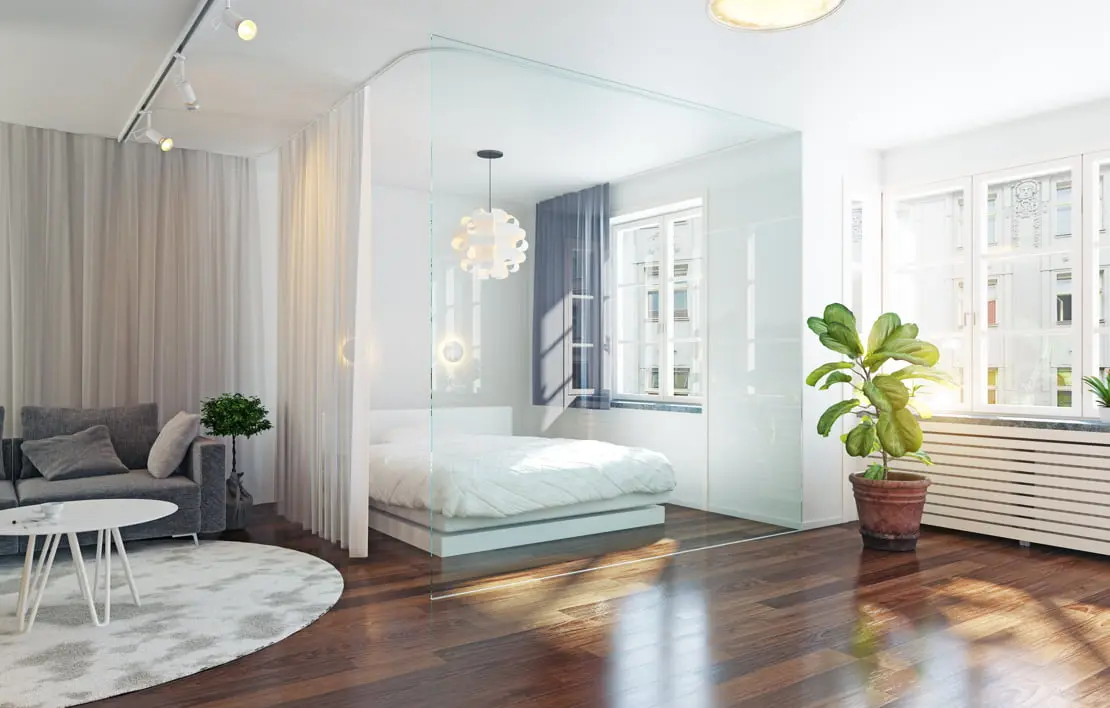 Luxury room with wooden floor and large windows for the entrance of natural light
2- Complements that provide warmth
Accessories play a decisive role in creating an environment that breathes the most authentic luxury. Floor-length curtains are a nice touch, combining aesthetics and practicality. It is advisable to opt for long curtains with an attractive design. Behind the curtains, it is also a good choice to have sheers that let light pass and at the same time maintain the privacy of the room.
The bed is another space where aesthetics must be taken care of. On the one hand, different sets of sheets should not be mixed, and the color of the duvet must match the curtains and furniture. In luxury bedrooms, the presence of several pillows or cushions of different sizes is also essential. Another ideal feature is a rug at the foot of the bed, especially considering the colder times of the year.
3- Colors that bring elegance, calm and luxury
Luxury bedrooms are intimate spaces that go beyond a place to sleep. It's a room to enjoy relaxation and comfort. The choice of colors plays a key role in making the room a pleasant place that radiates exclusivity. The commitment to elegance leads directly to thinking about the color black, which offers serenity but also reduces brightness.
If we decide to choose black for the floor or furniture, we can always use white accessories to create contrast. Curtains or sheets are a good way to combine both tones.
Choosing all white is synonymous with enhancing the room's light. Combining this with wood is an excellent way to break the monotony. This color is associated with the most timeless tastes in search of enhancing the breadth of the luxury room.
Both colors allow you to decorate the room with art without needing to resort to strident tones, but you can always choose the tones you like most that achieve a balance.
4- Take care of the lighting details
Every luxury room, whether in a hotel or a home, needs light that matches the space to be cozy. We must avoid relying only on ceiling lights, as they are insufficient. Large lamps are not necessary for the room to convey exclusivity.
Simply a lamp on each bedside table, either metal or glass, can be enough. It functions as a point of light and a decorative object. The ideal lighting in luxury rooms combines ambient light with wall light points. Recessed ceiling spotlights are also a good choice to enhance the elegance of the space.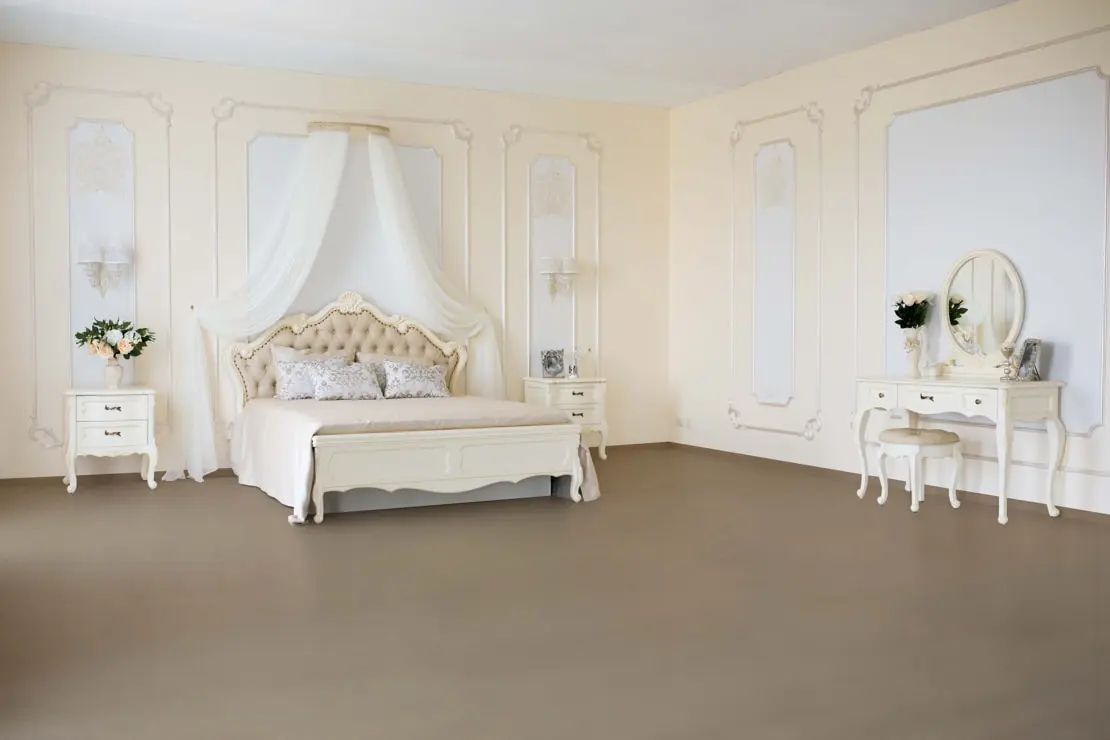 Luxury room with a microcement floor that enhances the spaciousness and classic style of the room
5- Sophisticated decoration in luxury rooms
To achieve a luxurious atmosphere, the best thing is to opt for sophisticated decoration. The first impression is decisive and with this decorative proposal we can enamor at first sight. The good distribution, quality finishes, and careful lighting are essential factors to give a 'chic' touch to the environment. Golden sparkles, flowers, ceiling lamps or scented candles are ideal complements to imbue rooms with sophistication.
6- Walls that inspire
Walls are the best ally to achieve a luxury room with high decorative value finishes. Play with combining pictures, frames and lamps, even bet on decorative coverings that enhance the decorative style of the house. If not, you can always combine paint, photographs or wallpaper. Taking great care of wall finishes is a statement of intent to create a luxurious room.
7- Natural light: an ideal choice for luxury rooms
Taking advantage of natural light is a golden rule in decorating a luxury room. On the one hand, it helps to have a greater sense of space and for the furniture to shine in its fullest glory. The quality of the finishes is highlighted even more with natural light and sun rays are a source of vitality and energy.
We can always place more than one mirror in the room to make the room shine even more. Thanks to natural light, our sophisticated decoration will achieve unparalleled beauty. It is the best way for both us, and our guests, to enjoy the details and finishes of the luxury room that we have decorated.
8- Order and simplicity as allies
In decoration, luxury is associated with the authentic, the emotional, and above all with simplicity. The best way to create luxury rooms is from an orderly and simple setting. Order, regardless of the decorating style, is essential to design a sophisticated, elegant, and comfortable room.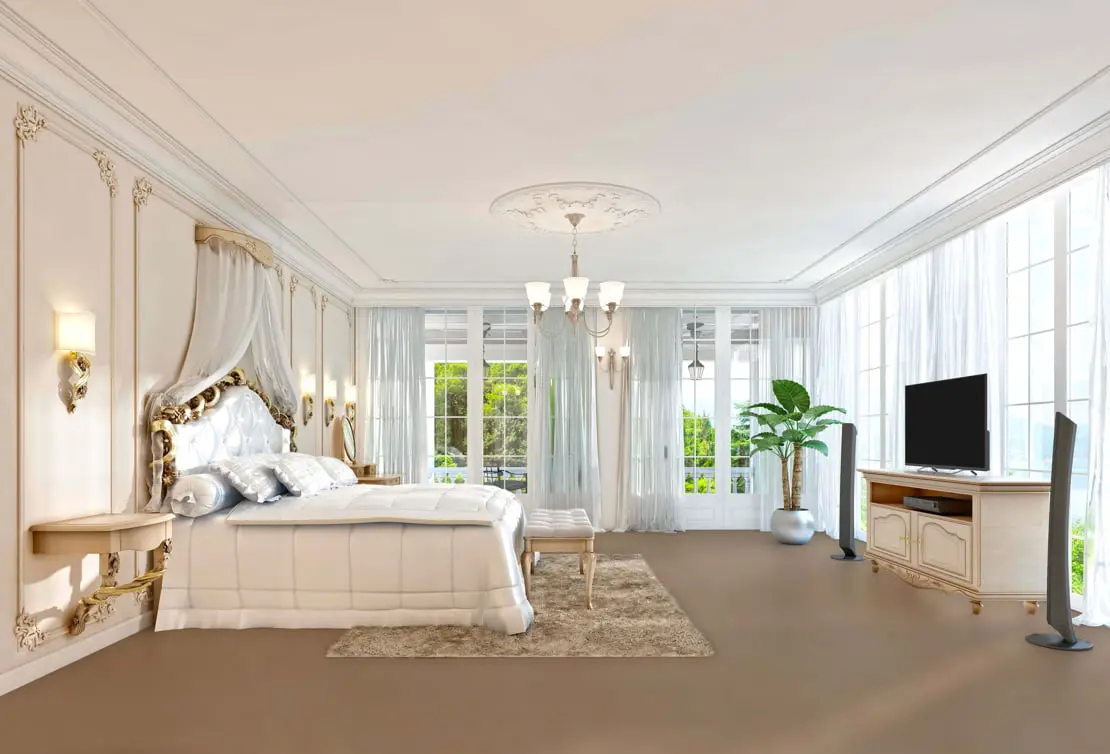 Luxury room with microcement on the floor to enhance the light of the room
Luxury bedrooms with micro cement
The choice of materials, like almost everything, makes the difference to achieve environments with personality and style. Also, when we choose quality, the sensation of luxury is even greater. In the relationship of quality and luxury, it is mandatory to talk about the microcement. It is the ideal material to create luxury rooms with an extra quality.
The possibilities offered by the microcement translate into unique floors and walls that provide a sleek visual line where the joints disappear. This decorative coating is a perfect ally to boost the spaciousness and brightness of luxury rooms.
Decorating a room, where functionality and aesthetics are successfully combined, is a complex task. Microcement in luxury rooms is the perfect alliance to achieve an added quality on any surface. With the exception of wood, it can be applied on ceramic, concrete, marble, cement, plaster, tiles, stoneware or terrazzo surfaces.
Unleash your imagination and enjoy a luxury room with unique and personalized finishes. Discover more finishes on our website.